After nearly a year of dragging and wrangling over forming a much-needed cabinet, the Lebanese nation finally learned on September 10 that officials had succeeded in forming a government on which all parties concerned were desirous. 'OK.
All political parties involved but not the whole nation.
The announcement came as a surprise on Friday, as people have long lost hope that those in power will come to put the country's best interests at the top of their agenda; beyond their own and that of their political parties.
But it also came surprisingly (or perhaps not) gender inequitable, in addition to the inadequate job assignments.
In this regard, it suffices to go through the specializations of the ministers chosen and the ministries entrusted to them.
The Lebanese state can now reassure the international community that its government is made up of specialized civil servants and obtain the funds and financial support promised.
But it has not reassured its inhabitants, not when they come to note that many of these "technocrats" have been assigned ministries in fields which are not their specializations.
Oddly, but not really shocking to the Lebanese people.
After all, those who have long ruled the country and its mess got what they wanted: to bring in their own people, based on sectarianism, and to distribute them around the ministerial seats that were to be occupied.
Who got what doesn't matter to them as long as they secured a 50/50 split based on the 2 main religions in Lebanon.
Does that mean it's all inclusive? No, not from a distance.
Lebanon is not only a country of religions and sects, not to mention only 2 religions and / or 18 sects. The rulers persist in seeing it that way, not the people however, not anymore.
Not when a sectarian division of a cabinet formation brings civil servants to the head of ministries outside their expertise (if any), and not when women are seen as not having the same capacity to participate in government .
Once again, Lebanese women have been marginalized in the selection of the right ministers.
This was not the case with the last cabinet where 6 highly qualified women were appointed by Hassan Diab and approved by the president and parliament.
Lebanon actually broke the regional record at the time with female government officials.
In the previous cabinet of Saad Hariri, they were 4 women ministers of the Lebanese government.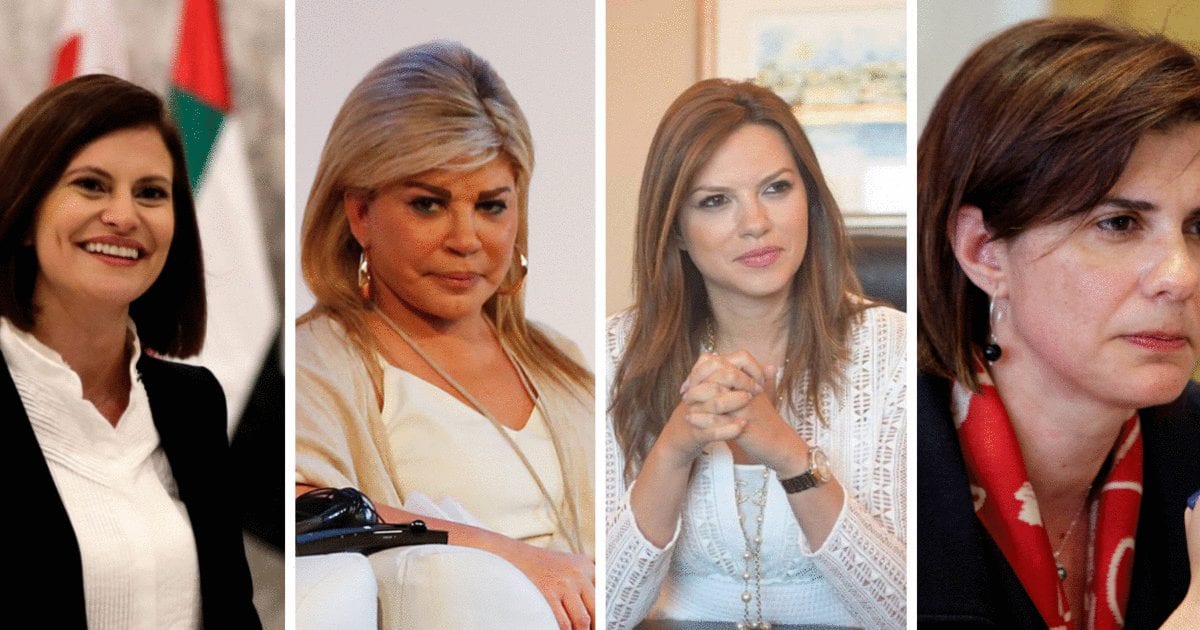 This time, Lebanon has only one woman in the cabinet of 24.
A message well received by the world that Lebanon does not consider its women as qualified or even able to lead or manage ministries.
However, on the ground of the daily reality of Lebanon, this is not the case.
"There is no shortage of women leaders and experts in all fields in Lebanon," UN Women said in a statement just after the cabinet announced on September 10 with its list of new ministers.
There is also no shortage of highly educated women in the country with proven accomplishments in handling complex situations and solving difficult challenges.
UN Women made a point of emphasizing this, based on the events of the past 2 years where Lebanese women actively managed and faced critical situations.
"With women playing a leading role in relief efforts in response to the COVID-19 pandemic, the Beirut port explosion and the economic crisis, they deserve to be represented in decisions made on the future of the country, "said the organization.
In short, they have long since earned their right to participate in shaping the country's recovery policies, the fate of which also concerns them and affects them and the younger generation they are raising.
Lebanon is home to men and women in almost equal proportions.
Both sexes are educated at the same universities, acquire a similar level of education, are part of the same labor force, and help fuel the wheel of the economy.
So what makes them less capable? Their sex …
And yet, it was they who in many cases ended the sectarian conflicts sparked by those responsible, preventing another devastating war in the country.
In the aftermath of the Beirut explosion, they were on the streets, mending and repairing, and even rebuilding, voluntarily undertaking tasks the government did not take on.
They are the ones who run most of the country's NGOs, helping those in need in the absence of a functioning social protection system. They are the ones who keep life beating in the heart of the country.
They are professors who educate the next generation of decision makers and legislators. They are hospital doctors, business leaders, heads of associations, engineers, architects, etc.
Clearly, their involvement in government and decision-making affecting the country is crucial, yet their access to it has been, once again, restricted.
Certainly, there is some relief that a government was finally formed after almost a year. But it was formed in a regressive manner when, as noted by UN Women, "the engagement of women is fundamental for the advancement and recovery of the country".
Like at least half of the Lebanese nation, UN Women considers this formation of government as "a great concern". An alarming drop in the representation of women from 30% to 4%.
"This reflects the surprisingly low level of representation of women in political and public office in the country, with women currently occupying less than five percent of parliamentary seats and representing less than six percent of city councilors," noted UN Women.
The Lebanese reality today is harsher than words can express it:
He fell back on almost every level; in living conditions, in monetary value, in shortages of basic commodities, in health services due to the neglect and bad governance of leaders, in endless crises, in means of transport, in income, gender equality, etc.
This formation of the new government is disappointing to say the least. The Lebanese can only keep a little hope that they can at least solve some of the most critical issues that have made life in Lebanon harder than ever.
---
Our team works tirelessly to guarantee the Lebanese a reliable alternative to the politically supported media with their heavily funded and dangerous propaganda machines. We have been detained, faced with relentless cyber attacks, censorship, attempted kidnappings, physical intimidation and futile prosecutions that drain our resources. The financial support of our readers allows us to fight on your behalf. If you can afford it, please consider supporting The961's work. Support The961. Make a contribution now.